A few weekends ago, the hubby, some friends and I took field trip to Nevada's oldest Winery, the Pahrump Valley Winery, established in 1990.
(No. Really, there are wineries in Nevada. Three of them.)
There are three major obstacles to the growth of the wine industry in Nevada.
1) As the UNR experimental vineyard has shown, the climate and soil are
excellent
for killing several popular varietals dead. Despite these obstacles, the NV State Department of Agriculture really is interested in trying to get more farmers to grow grapes because they consume less water than hay or alfalfa and the long term return on investment is greater.
2) The law.
NRS 597.240
states that only counties with populations of 100,000 or less may operate a commercial wine making facility.
3) Wild Horses. The first planting of vines around the winery ended up being trampled to death by wild mustangs in 1993. (Other NV grape growers in horse and burro country have had similar problems.)
For about 15 years, PVW was something of a joke. The wine, made 100% with grapes and juice imported from California was eh at best and
bleargh!
at worst.
In 2003 as part of helping out a family member with a real estate deal, the current owners, Bill and Gretchen Loken (who had zero previous winemaking experience) took over and discovered that they
liked
running the winery and making wine. So much so that they bought it outright in 2005. Gretchen has turned out to be a gifted winemaker and is a real advocate for the
fledgling
embryonic grape growing industry in NV. She would love to source as many grapes as possible from NV, because right now, outside of some Roussillon and the winery's small vineyard of Zinfandel, she has no NV grapes to work with. (She's hoping for some Merlot in about 2 years.)
Thus, hers is the joke that PVW is "The Best California Winery in Nevada."
Tasting Notes:
Alas, PVW was out of all wine made with NV grown grapes. Not surprising since they only produce a few cases, given the tiny supply.
Dry Whites
2007 Chardonnay (Lodi) -- Pale gold, grapefruit, green apples, with a softly toasty finish. (We bought a bottle.)
Dry Reds
2006 Pinot Noir (Willamette Valley) -- Pale red, light body, floral nose. Very tart, almost sour. Cherry and strawberry flavors. (This was the wine I liked the least.)
2006 Merlot (Napa) -- Rich ruby color, blackberry and currant nose, that classic middle "green" note, and a long, velvety,
dark chocolately
finish. (We got a bottle of this wine to go with lunch.)
2005 Cabernet Sauvignon (Monterey) -- Nice dark ruby, a smoky note on the nose and then it tasted like dry raspberry cider with some currants coming in on the back end. Not rough or unpleasantly bitter at all. I've never had a Cab taste so fruity or so very much like raspberries. (We bought a bottle.)
2005 Syrah (Paso Robles) -- I got to taste this at UNLVino and was really happy to see that PVW had bottles of it still in stock. Dark, a very fragrant nose, full of the classic blue-black flavors, smooth and lush, and the finish wasn't peppery, but tasted like mocha.
Off dry to Sweet
2008 Riesling (Bishop, CA) -- These grapes were grown on the east side of the Sierra in the (rain) shadow of the "Fourteeners" of the High Sierra, not a traditional region at all. Pale gold, floral nose, it's a semi-sweet mouth full of peaches and oranges, with a very long green apple finish.
2008 Symphony -- Palest gold. Nose of honeysuckle and jasmine. A light, sweet wine that's an alternative to Moscato. Less honeyed than a Moscato, it tastes like honeysuckle and peaches, not apricots. (We brought a bottle of this home and paired it with a cheesecake.)
Desert Blush -- The sweetest wine they have. A light pink in the glass. Sweet fruity nose. Sweet strawberries, peaches, nectarines. (Too sweet for my palate unless served as a lite bodied dessert wine.)
Burgundy -- Off-dry. This wine is "burgundy" only in the sense of the color. The nose is grapey. The color is medium red. The taste is sweet-tart cherries, the body is Pinot Noir light, and it's best served slightly chilled. It's aged in steel, but there are just enough tannins to give a backbone so it's not cloying. It's a really nice back yard BBQ wine.
Fortified
Creme Sherry -- The grape varietal is mostly Palomino and it's aged 4 years in the barrel. Buttery walnuts, a brandy note, and a long toasty finish. Intensely sweet. (Best served over some vanilla icecream, IMHO.)
-----
Under the previous owners, the Zinfandel vines out front were purely for decorative purposes. In 2005, the Lokens harvested them and made into the first commercial red wine grown from Nevada grapes. And, having been lucky enough to have tasted it at UNLVino, it was some damn good wine. But don't just take my word for it.
It won a gold medal at the Pacific Rim international competition
.
PVW is a boutique operation -- these pictures show almost all the wine in the building. Since the Lokens have taken over, they've started aging wines in a mixture of French and American oak.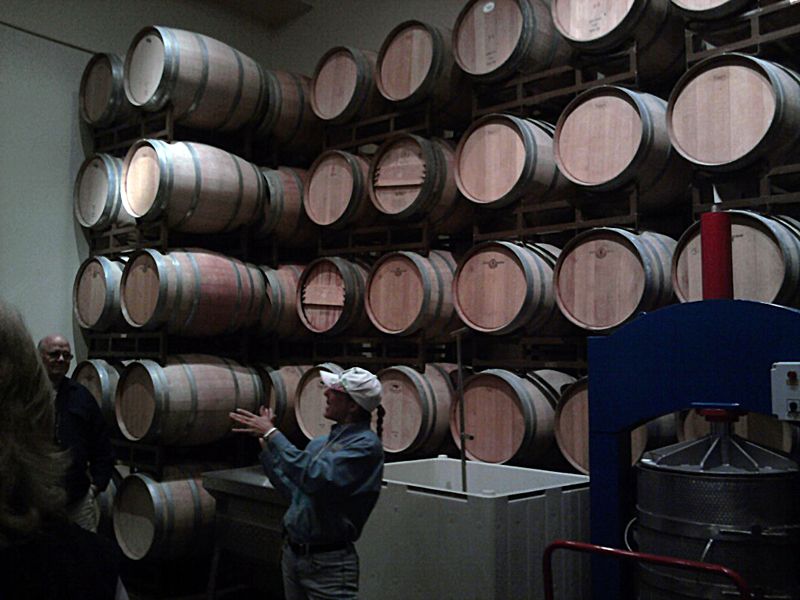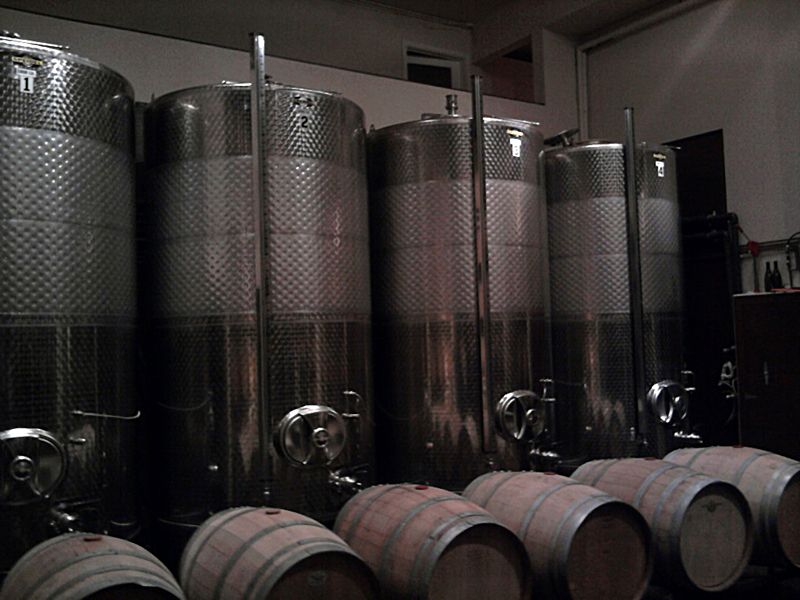 This is Gretchen with the
one
bottling machine they have.
The Lokens are expanding the vineyards: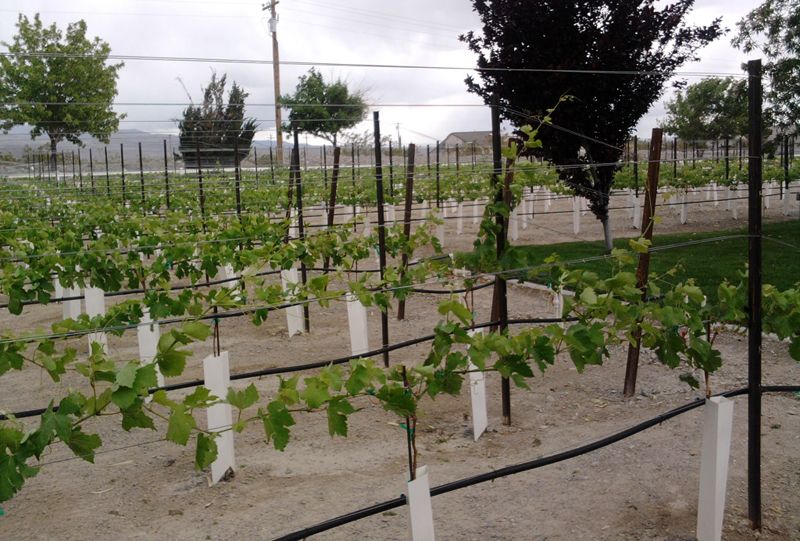 I think these are Zin or Syrah grapes. The climate being so hot and sunny in southern NV, they plant the rows only 5 feet apart so that the mature vines can shade each other.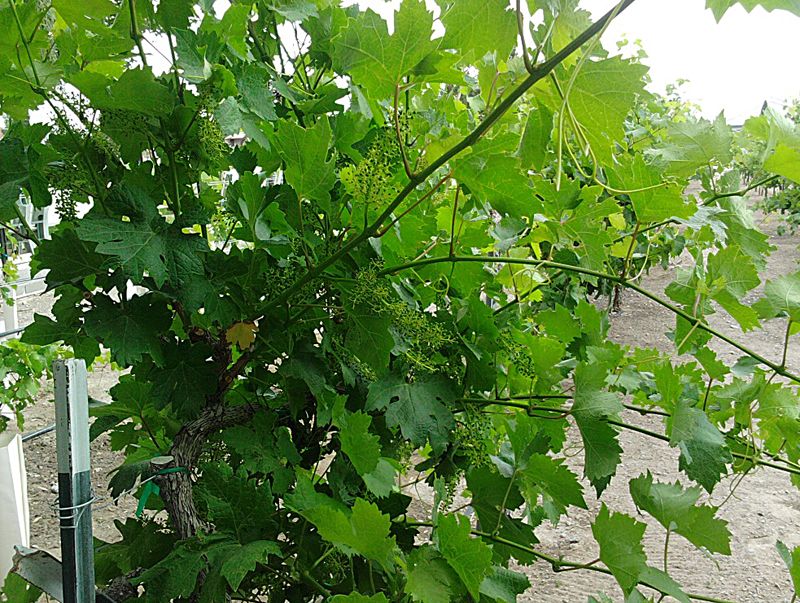 This year's Zinfandel crop, already on the vine. In addition to planting the vines closer together than in most vineyards, they train them with somewhat bushy tops so the heat of the summer sun doesn't turn the grapes into raisins on the vine.